With over 40+ years of experience, our roofing experts have been building top-quality roofing systems for business owners to protect their greatest assets. With Burns, you get a dedicated roofing team that you can trust, and that will get the job on time.
Your Leading Team For
Commerical Construction
We've helped dozens of businesses to construct the roof they need to protect their business. With a wide arsenal of roofing styles, we provide top-quality roofing projects to protect your property. Whichever style you choose, we'll deliver a robust roof that persists through time.  
Certified To Install The Best
We service commercial roof projects from small commercial repairs to large industrial tear offs and re-roofs. Commercial roofs that Martin Roofing has installed have proven to be dependable and last longer, with less money spent by customers on roofing costs. This is what sets us apart from other roofers: we are certified to install the highest quality roofing products, such as our specialty, CertainTeed S/A Peal & Stick, that have been proven to endure weathering and wear.
Whatever materials you're looking to use for your next project, we've got you covered with a wide arsenal of superior materials to complete your next commercial construction project.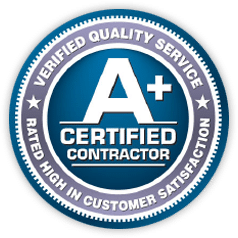 BBB Certified With An A+ Rating
Since 1981 | Over 37 Years In Business!
With 40+ years of experience, you can rest easy we've got the know-how to handle your residential roofing and remodeling situation.
We provide exceptional top-quality interior & exterior roofing services to our commercial clients. For us, nothing is worth doing if its not done with total effort, which enables us to provide exceptional quality for all of our commercial construction projects. 
We bring the samples to you. We know the importance of matching the roof color with the exterior of your home. Therefore, it is imperative to put the sample boards or full shingles, if you wish, next to the brick or siding of your residence in order to ensure a complete match.
We have a wide variety of roofing materials and only the highest of quality of materials will be used on your home. If there is a particular brand or style just tell us, and we'll make your vision a reality!